EU referendum: Lloyd's insurers say Brexit would 'hurt' or 'severely damage' business
More than two thirds of insurers, brokers, and service providers in London's £60 billion international insurance market say leaving the European Union would be "bad for business."
Nearly 70 per cent of insurance workers believe Britain leaving the EU would 'hurt' or 'severely damage' Lloyds of London, according to the research from City consultancy Haggie Partners which surveyed nearly 300 active participants in the London market.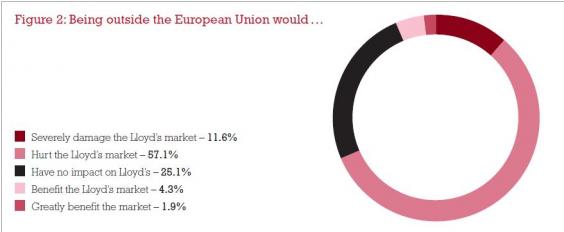 Slightly more than a quarter or 25.1 per cent believe it will have no impact, while only 6.2 per cent believe Brexit would benefit Lloyd's, the survey found.
"Lloyd's centrally has clearly stated its preference for Britain to stay within the European Union, and this research shows that, from a business perspective at least, the vast majority of companies in the London market agree," said Dr Adrian Leonard, an insurance consultant and an associate director of the Centre for Financial History, University of Cambridge.
A majority of insurance practitioners also want Lloyds chairman John Nelson, set to step down next year, to be replaced by an industry insider, the Haggie Partners survey revealed.
The survey echoes the view of the financial community.
Three-quarters of the finance chiefs who took part in the influential Deloitte survey said they would prefer the UK to stay in Europe, up from 62 per cent three months ago.
The Deloitte survey also revealed that the referendum is considered the biggest risk facing businesses – more than deflation and economic weakness in the eurozone.
"The EU scores high marks with chief finance officers for its beneficial effects on UK exports, inward investment and financial services," the report said.
source
http://www.independent.co.uk/news/business/news/eu-referendum-lloyd-s-insurers-say-brexit-would-hurt-or-severely-damage-business-a6968286.html